Zero Waste theory has four principles:
Refuse
Reduce
Reuse
Recycle
The eco-lodges around the world are trying to not produce garbage. Preventing the entry of unrecoverable materials into the areas of eco-lodges is the first principle.
Another issue is that all consumables must be able to be recycled and reused. The people of Japan believe in a term called MOTTAINAI; a concept that helps defines the people of Japan and its industry.
Everything is a blessing from the Creator. We must be grateful and do not waste anything in vain. To waste everything is a crime.
In Gileboom ecolodge, we have recycled 85% of dry waste, and all wet waste is recycled and converted to vermicompost or worm compost. Now, there is no other choice but to prevent the entry of unrecoverable waste.
All guests and travel agencies are kindly requested not to use disposable plastic containers or plastic bags as much as possible. And since there is only a glass melting plant in Rasht, drinks packed in glass bottles must not . . . . Sorry, many negative verbs were used! Be kind to nature.
Here are some examples of dry waste recycling in Gileboom:
We used empty bottled for sealing and silencing in the corners of gables. You can put plastic bags in between them to make them more compact. For a better view, cover the vista with waste fabrics and boxes of eggs or clay (straw and mud).
We replaced the bottles for diluted yogurt with metal containers. Each 4-liter container is equivalent to two plastic bottles. Consider that on the holidays and busy weekends of Gileboom, a maximum of ten bottles are consumed and this is a story for a week! Usually milk is also poured into a plastic bag. We have a container for milk as well.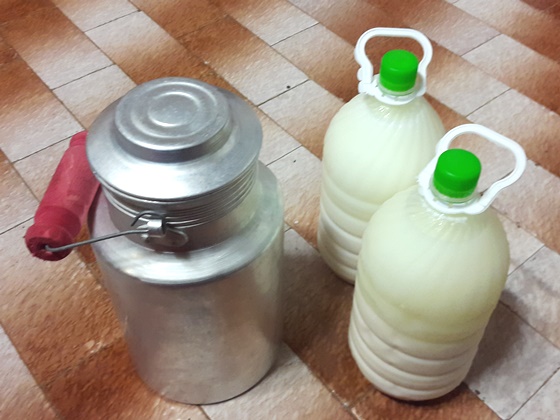 3.Plastic linings are threaded and used in combination with straw and mud in order to insulate the walls.
Other samples of reusing inorganic waste: