Gileboom is introduced in a hotel in Ramsar part in Lonely Planet guide book. There are many hotels in Ramsar with different amenities, prices, and great views over the city and the Caspian Sea. Beside all of this great accommodation options that hotels provide: such as pool, spa, restaurant, and cleaning service, there are things the money can't buy in hotels, such as the experience to live with locals, warm hospitality, and delicious local foods.
Like other places in the world, there are many travelers in Ramsar who prefer staying in other kinds of accommodation places such as homestays to hotels. Gileboom is one of the homestays in Ramsar which is so popular among foreign tourists, as most of them stated that they have been in four and five star hotels around the world but staying in a traditional house is a new experience.
Here are some of the reviews by our guests in TripAdvisor about their feeling in Gileboom:
A Brief description on Gileboom homestay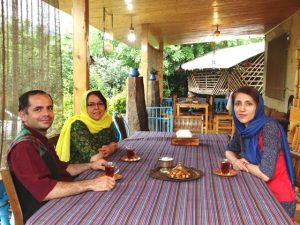 Gileboom is located in a village named Ghasem-Abad, 20 kilometers west of Ramsar, it is surrounded by the Caspian hyrcanian Jungle and a view of the Caspian Sea, your host in this homestay are Mahin, Ro, and Shiva (a couple and a friend) who are all engineering graduates from Tehran Polytechnic, and after ten years, by visiting Mahtab Suzanduz who was a world famous needle worker, they started a new chapter in their lives to give local artisans the recognition they deserve.
More about Gileboom homestay