Iranian food culture is a rainbow cuisine, consisting of a variety of ethnic and regional cuisines. One spectrum of this rainbow is contributed by the people of Guilan who live along the western coast of the Caspian Sea. Guilani cuisine is well-known and loved by all Iranian people. An important aspect of the Guilani cuisine is the abundant use of edible green vegetables that are rich in smell and taste. The Guilani people refer to the wildly grown green vegetables as vash (grass). Khal-vash and Torshe-vash are examples of edible leafy vegetables while sege-vash is an inedible herb.The Guilani cuisine follows the traditional concept of cold and warm nature of foods for a well-balanced diet. The Guilani people eat lots of raw garlic as well as foods containing garlic to balance humidity. They consider garlic as a warm-natured food which helps fight dampness and reduce illnesses such as rheumatism. They also believe that humidity causes excessive bile secretion, to avoid which they include sour ingredients in their food.
Vegetables and cucurbits are also used in many Guilani dishes, distinguishing the local food as a green cuisine. Egg is an important part of Guilani food and culture. Eggs are everywhere: in games, local ceremonies, religious rites as well as in traditional medicine. It could be said, without exaggeration, that egg holds a central place in the Guilani culture.
Extracted from the book "People of Guilan: Food and Culture", written by Masoud Poorhadi
Rasht is the capital city of Gilan province, has made it into UNESCO's Creative Cities Network for its gastronomy. Throughout generations, Rashti cuisine has not only carried on ancient recipes, but also unique cooking utensils and methods.
Gileboom serves authentic Guilani local food which is prepared by local cooks. All foods are served with cooked rice and side-dishes including fresh olives, pickled garlic, yogurt or salad and the traditional yogurt-based beverage, known as Doogh.
Morgh-e-Torsh (Sour Chicken): It is somewhat similar to the famous Iranian dish, Fesenjan. Ingredients include: walnut, onion, pomegranate paste, coriander, parsley, mint, pennyroyal and Cucaq (eryngium planum) (a type of local vegetables), salt, turmeric, oil.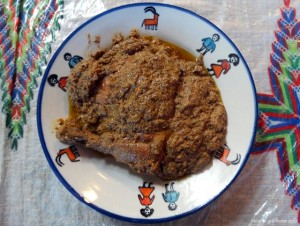 Bademjan-Torshi (Sour Eggplant): The dish consists of eggplants and tomatoes stuffed with ingredients similar to Morgh-e-Torsh. (It is a kind of Vegetarian dish)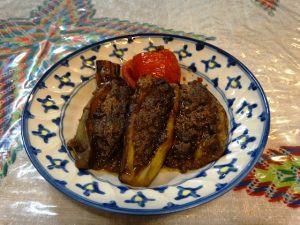 Chef's choice: Bademjan-Torshi (Sour Eggplant).
Panir-Boroshte (Cheese Patties): It is a fried mixture of cheese and eggs, also known in Iran as Kookoo-e Paneer (cheese patties). Ingredients include: local Guilani cheese and eggs without any additive. (It is a kind of Vegetarian dish)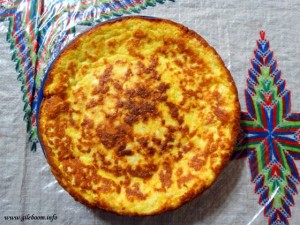 Pela-Sar-Tareh (Green Stew over Rice): It is a vegetable stew which is often served along with Panir-Boroshte. Its ingredients are: dill, spinach, chard, parsley, mint, fenugreek, nettle, garlic, onion, field bean and cream or eggs. Since nettle is a wild and seasonal herb, this dish is not served during the summer months when nettle is not available. (It is a kind of Vegetarian dish)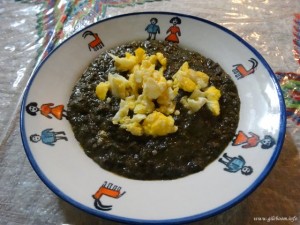 Hoolabe: It is a stew made of chicken and green vegetables such as Torshe-vash (Oxalis corniculata), chard, spinach, coriander, mint, parsley, garlic and onion. The dish also includes fried eggplant, tomato paste.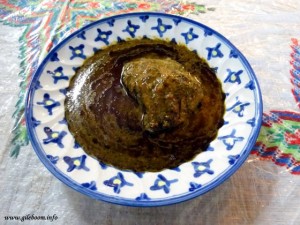 Bademjan Varaghe (Sheet Pan Eggplant): It is a type of omelet making up of eggplants and eggs. This food is not served as a main meal on a Guilani table and it can be eaten with the foods like Hoolabe. (It is a kind of Vegetarian dish)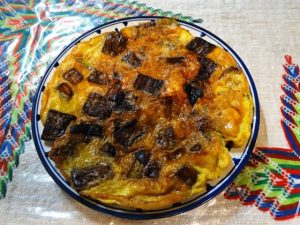 Torsh-e-Tare (Sour Herbal Stew): It is a stew similar to Ghorme-Sabzi. Ingredients include: coriander, poppy seeds, chard, parsley, spinach, mint, meat with bone, garlic, onion, field bean and sour orange juice.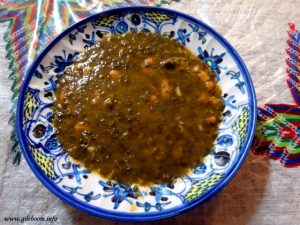 KooKoo-Farangi (Western Patties): It is fried mixture of vegetables cutlet (Sabzi Kookoo), walnut, potato, fried onion, split peas, minced meat. (It is a kind of Vegetarian dish)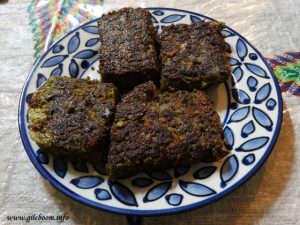 Baghala-Ghatogh (Bean Stew): It is a green stew made of field bean, dill, garlic and eggs. (It is a kind of Vegetarian dish)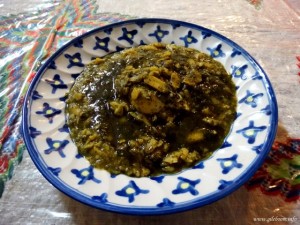 Mirza-Qasemi: It is a red-color gravy made of fried/roasted eggplant, tomato, garlic and eggs. (It is a kind of Vegetarian dish)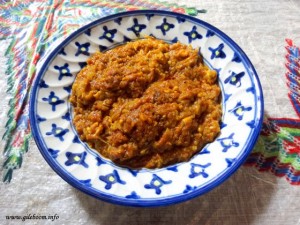 Kookooye-Ashpal (Roe Patties): It is fried mixture of fish eggs, dill, leek, parsley, pennyroyal and eggs. This meal is only served in April.
Vegetable Rice with Caspian White Fish: Rice is cooked with local herbs including fenugreek, dill and coriander and served with fried Caspian White Fish (also known as Caspian Kutum).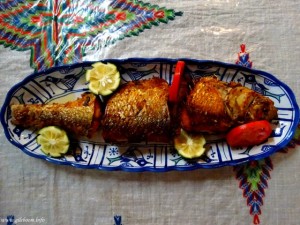 Aloo-Gheisi-Ghatogh (Plum and Dried Apricot Stew): It is a sweet-sour stew made of mutton, stewed plum, dried apricot, tomato paste and fried onion.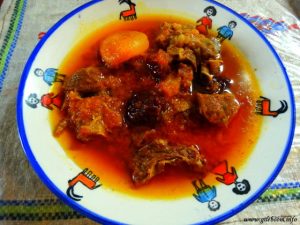 Kashk-e-Aab (Whey with water): This meal is also known as Kalle Joosh or Kaljoosh in the central regions of Iran. In Guilan province, a mixture of local whey with the vegetables such as cucaq (eryngium pester), mint and mutton (lamb meat), garlic, onion, and tomato paste tastes this food more delicious.