Gileboom ecolodge has interpretative programs for conservation, it provides visitors with current information or contacts of appropriate staff for interpretative questions about the local wildlife, culture, archaeology, ecolodge design and landscaping.
As an example of interpretative programs for conservation we should point out the Trekking, hiking and walking maps, special documents about Flora and Fauna, local food recipes, many short films about handicrafts, events, and water and energy conservation are prepared for and presented to our guests in this reasons.
Just by walking around the house in the yard you will find a lot of symbols and subjects that show other samples of our interpretative programs for conservation. Some of them like rainwater harvesting, graywater treatment, trees definition or children's recycled handicrafts' exhibition are directly pointed to conservation and climate change story. Others are only special codes and just shapes. While guests are walking around, questions are rising and it is the best start to negotiate about eco activities and cultural events. Ultimately as Hitesh Mehta pointed out, what makes an ecolodge successful and different from other hotels or lodgings is its structure that is based on its stewardship of the natural as well as the cultural resources it provides for their clients.
As an example, "Pahlevan" is the Galesh (semi nomad) name for the Persian leopards in Hyrcanian mixed forest. Traditionally Galesh people respect this animal because as a fact, they control boar population. According to Persian literature, Pahlevan is the strongest and honest man among the wrestlers. Most of the time, guests and visitors from other parts of Iran pay attention to Pahlevan word in living room, while they have a lot of questions. In this time, we tell them about the importance of bio diversity and Galesh nomad people who are unknown.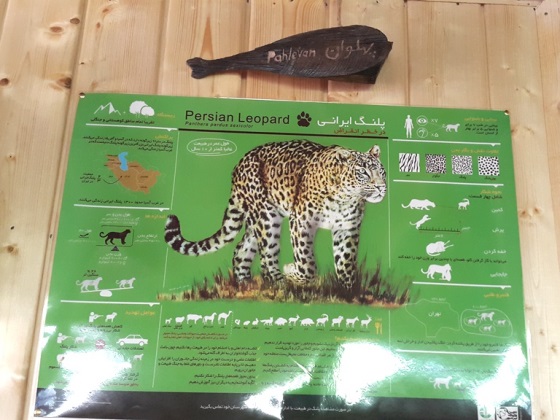 In every hiking or trekking inside jungles, Interpretative programs are presented. Local guides talk about the history of Caspian Sea and its only mammal, Caspian seal; beetles and their benefit for the ground, Hyrcanian ancient trees like Iron wood and Hawks. Wetlands and Ramsar convention are described to the eco tourists as well while local active people are participate in these negotiations and express their views.