"Homestay in Ramsar": a new keyword when googling an accommodation because the number of homestays has currently increased on the green belt of Iran.
Gileboom homestay was the first homestay in Guilan Province which welcomed eco travelers in a cozy, eco-friendly home near the Caspian Sea.
As Lonely Planet states : "Brainchild of young Tehrani adventurers, this lodge nestled in the verdant Ramsar hinterland provides cultural, musical, gastronomic and adventure activities for all ages."
 Where is Gileboom as a homestay in Ramsar? 
Gileboom is located in on a sliver of fertile land between the mountains and the sea, in a village known for its handicrafts named Ghasem-Abad; it is 20 kilometers west of Ramsar and 50 kilometers far from the east of Lahijan.  This homestay is located next to the Caspian Sea (also called Khazar) and it's just 20 minutes away from the Caspian Hyrcanian mixed forests. The Jungle is a habitat of many bird species just as the Caspian Sea is a home to a diverse range of fish species. Check Gileboom Location on Google Map.
What is the meaning of Gileboom homestay? 
Gileboom is a portmanteau of 'Gilak' and 'Galesh' –the people native to the northern provinces of Iran— and 'Boom' means a 'habitat' in Persian. This place introduces eastern Gilan culture.
Who is your host in Gileboom homestay?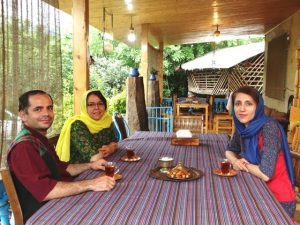 In each homestay in Ramsar, you can accommodate in a house of a family, but your hosts in Gileboom are Mahin, Ro, and Shiva (a couple and a friend) who are all engineering graduates from Tehran Polytechnic and resigned from their jobs (after less than a decade of working in their profession) due to visiting Mahtab Suzanduz who was a world famous needle worker, and so they started a new chapter in their lives to give local artisans the recognition they deserve. Want to know more about your hosts?
Can you order local food in Gileboom?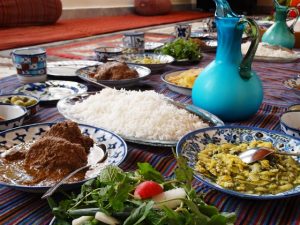 Of course you can! In addition to the local tour programs led by the founders and how this ecolodge is preserved, "the food" is what really differentiates Gileboom from any other homestay in Ramsar.
Gileboom serves authentic Guilani local food which is prepared by local cooks. All foods are served with cooked rice and side-dishes including fresh olives, pickled garlic, yogurt or salad and the traditional yogurt-based beverage, known as Doogh.
In fact, one of our missions in Gileboom is to introduce Guilani food culture which is well-known and loved by all Iranian people and foreign guests.
What surrounds Gileboom homestay? 
As a homestay in Ramsar, Gileboom is surrounded by the Caspian hyrcanian mixed Forest and a view of the Caspian Sea. It has a beautiful landscape of the green foothills of Gishar-Kuh (1,350 m) and the highest peak in Gilan, Somamous (3,700 m).
In autumn and winter, Gileboom garden is full of oranges. Other trees such as pear, white and dark fig bear fruit in early summer. The house's porch is covered with mat and a seasonal stream passes through the yard. A green field located near Gileboom is a place for setting up ceremonies such as football, weddings and Gilak-style wrestling (known as Gile-Mardi wrestling).
What is the mission of Gileboom founders?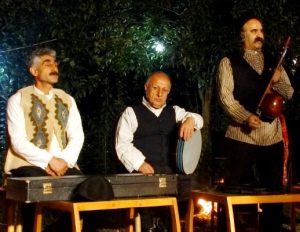 Gileboom homestay gives the local community an opportunity to showcase and sell their hand-made products and crafts.
The food cooked in Gileboom is authentic Gilaki cuisine prepared by the local women, served in hand-made clay and porcelain (china) dishes and spread on a tablecloth along with traditional side-dishes and beverages.
To familiarize the guests with the traditional folk music of the region, Gileboom organizes live performances by local Ghasem-Abadi performers.
Activity programs in Gileboom homestay
Gileboom activities are organized in cooperation with the local community with the aim of preserving the local art and culture and helping with sustainable development of the region. Orange-picking, cleaning the nature, visiting home-based felt making workshops, visiting tea factory, working at farm, pottery (known as sofalgari) and sculpture making, weaving Chadorshab, wood turning, fishing, hiking, educational tours and getting familiar with Ghasem-Abadi music and songs are some of the activities conducted by Gileboom.
We hope to be able to take humble steps towards sustainable development of the region and exchanging national and international experiences with the help of our dear guests.