Documenting guest suggestions was one of the things we have done from the first  days in Gileboom. Our staff are ready to listen to the guests and local people ideas and alternatives to everything about conservation and environment anytime. We have note books for writing the ideas. It involves experts and community suggestions as well as interpretative staff in the creation of new programs. Gileboom asks for visitors' feedback and suggestions on what new programs they would like to experience. If the ideas are repeated more than five times, we analyze them according to ecolodge guidelines, then make a decision and do it.
As an example, Eco Kolbe room is designed, equipped and constructed for those people who can't walk and use wheelchair. It was our guests' idea, and nowadays, Gileboom is the only ecolodge in Iran which has prepared such equipment for this kind of people.
In Persian language, Kolbe means a simple and small room, so Eco Kolbe is a simple separate room which has not any step. In the entrance, it has a simple ramp and inside, the toilet's floor is at the same level as the floor of building. There are stiff handles on the inside of the toilet for disabled people and the door is wide enough to pass by wheelchair.
Room architecture is like Guilan traditional house. Walls are made of thatch and it has a double roof to decrease the consumption level of energy. Water is prepared by rain water harvesting and we are tried to have a passive design as well.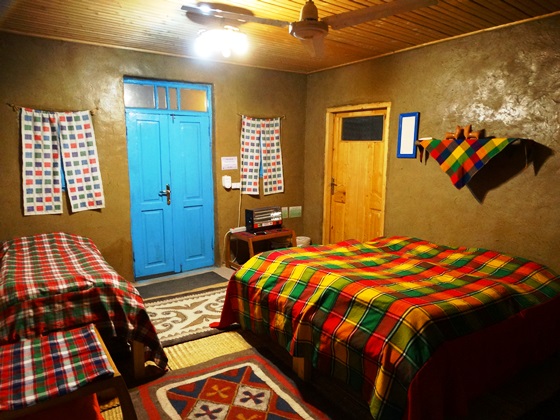 In Gileboom, we play game with our guests, negotiate about cultural and environmental subjects and we make a good relationship with each other. Actually our guests and local people are two valuable wings to fly, discover and understand. Both of these two groups are welcomed. Sometimes we receive mails, letters and photos of our guests. They write about their experience of staying in our ecolodge. For us, Gileboom is like a university where we have passed many courses about nationalities, geography and cultures.