Gileboom is rated the "top choice guesthouse in Ramsar " by Lonely Planet guide book.
By googling 'guesthouse in Ramsar' or 'guesthouse near the Caspian Sea' Gileboom would be one of the search results. Gileboom offers not only the amenities and services that a guest house provides but also it brings the level of commitments that a homestay should has.
Is Gileboom a homestay or a guesthouse in Ramsar?
A guesthouse (or guest house) means a private house offering accommodation to paying guests. It is also called 'Mehman-Khaneh' or 'Mehman-Sara' in Persian. Let's look at the difference between homestay and guest house:
What is the difference between a homestay and a guesthouse?
A guesthouse is a small separate building on the grounds of a larger home, or is built just for hosting paying visitors on an estate or near a large home. You may be sharing the guesthouse with other paying guests, or you and your family might have it to yourselves. Some guesthouses are set up and equipped so you can fix your own meals, some of them have meals delivered from the main house, and some others are just for sleeping and you would have meals with the big house's owner or at a restaurant nearby.[yahoo]
A homestay is used when you are a guest at someone's home, even though you are a stranger and will be paying for your room and food. It is a more intimate and meaningful visit in a foreign country and you can acquaint with new people and their ways of living that you may miss it by staying in a hotel.
According to the definition above, Gileboom is a kind of homestay as the host is also live at the home that other guests stay at and it is possible to order local foods there.
A Brief description on Gileboom homestay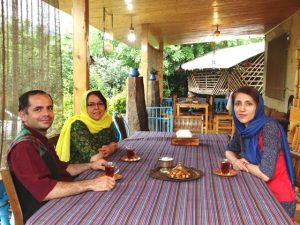 Gileboom is located in a village named Ghasem-Abad, 20 kilometers west of Ramsar, it is surrounded with Caspian hyrcanian mixed forest and a view of Caspian Sea, your host at this homestay are Mahin, Ro, and Shiva (a couple and a friend) who are all engineering graduates from Tehran Polytechnic, and after ten years, by visiting Mahtab Suzanduz who was a world famous needle worker, they started a new chapter in their lives to give local artisans the recognition they deserve.
 More about Gileboom homestay