Gastronomy is combination of two words.
The word gastro is derived from the words "gastros" which means stomach and "gnomos" which means knowledge or law in Greek. Apart from gastronomy, the word culinary is a word used as a country or a places dishes, food, food preparation techniques and it refers to ingredients, foods that are prepared, beverages, production process, the activities.
The context of gastronomy is about the variety of food and beverages, the production, microbiology of food and drinks, the dietary, eating habits and, restaurant.
Until the 1970s–1980s, dining at three-star restaurants of France was considered as gastronomy tourism, but today it has shifted to experiencing different cultures (Santich, 2004). And in this new era, it is not only a food and beverage issue but also a where, how, when and why we eat and drink issue.
According to the Smith & Costello's study (2009) food-focused tourists travel as couples, have higher education, spend more than other cultural tourists, stay longer and accommodate in hotels and, the main motivations for them are to have the opportunity for rest, relaxation, and personal indulgence. Similarly, Chaney & Ryan (2012) confirms that gastro-tourists have the experience and knowledge of experiencing the different cultures.
According to Boyne et al. (2003), there are four types of cuisine tourists. The Type I tourists are the ones in which gastronomy is crucial during their holidays and they look for gastronomic elements mostly local food. For Type II tourists gastronomy is also important but not as much as Type I tourists. They do appreciate gastronomic elements when it is presented to them. For Type III tourists gastronomy is not an important part of their holiday, however, they may attend gastronomic events during their holidays. Type IV tourists are not interested in gastronomic elements during their holiday.
Cuisine culture of Guilan is different from city to city and village to village. There are over than 300 foods recognized in this province. As desserts and appetizers are part of gastronomy tourism, choosing Rasht, the capital city of Guilan province, as UNESCO creative citiy of gastronomy is really smart and sophisticated. Not only foods of the village where is surrounding Gileboom inherit the taste and smell from Rasht cuisines, but also this region has its own cuisines.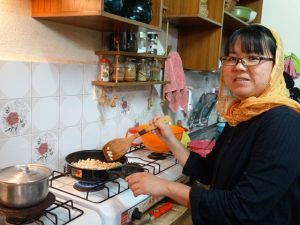 Eco lodges serve their guests with local cuisines, desserts, appetizers and eating / drinking habits so they are known as gastronomy tourism destinations. Gileboom makes 13 different foods of eastern part of Guilan, eight kinds of jams, three local cookies, herbal teas, and beverages in each season.
Jams including: Orange blossom, Sour orange blossom, Raspberry, Orange, Kiwi fruit, Fig, Wild medlar, known as Anbu, and Quince.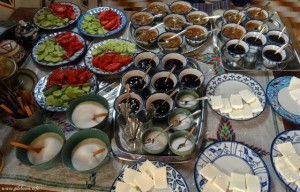 Local Cookies: Aab dandun (the cookie gets watered down when as you put in your mouth), Mein-Por (The middle of it is filled), and Keshta.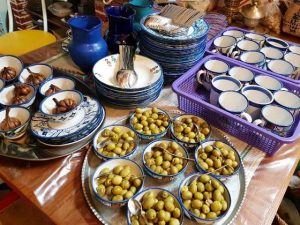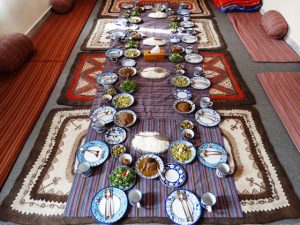 You may find Persian Food Tour in Tehran province as the team who hold gastronomy tours there.
Ref: Gastronomy  Tourism,  Motivations  and  Destinations BerrinGUZEL  ,  Müge  APAYDIN