Mish-Sere Dasht walk is enjoyable in all seasons. Mish-Sere Dasht is a must-see place for those who wish to discover how the eastern Guilan plain looked about a hundred years ago. Walk from Gileboom to reach the village main road, then continue in Hojjat Alipour Street to reach Baharestan road. Keep walking in this road for 15 minutes and you shall arrive at Mish-Sere Dasht.
Mish-Sere Dasth means 'cow pasture' in Gilaki dialect. This plain is full of Kunos trees (gilak term for wild medlar trees) so you can eat the fruits in late fall and winter. Be careful of the thorns. It is better to wear gloves while picking Kunos. Continue walking through Mish-Sere Dasth towards south and you will arrive at vast orange farms along the sandy road. Here you can smell the scent of sour orange blossoms during April, observe fruit picking and loading on 100-year old trucks during winter and enjoy a view over Caspian Sea, watching birds and the rise and fall of clouds over Gishar-Kuh hill.
Continue walking on the sandy road in Mish-Sere Dasth towards south until you reach a lane on the right-hand side of the road. Walk along the lane in the west direction to reach Sia-Lat road after 20 minutes. Walking down this road you will reach Chale-Sara cross road, then Abrisham-1 alley and finally back to Gileboom.
It takes about 4 hours to go from Gileboom to Mish-Sere Dasht, do sightseeing for about an hour and return back.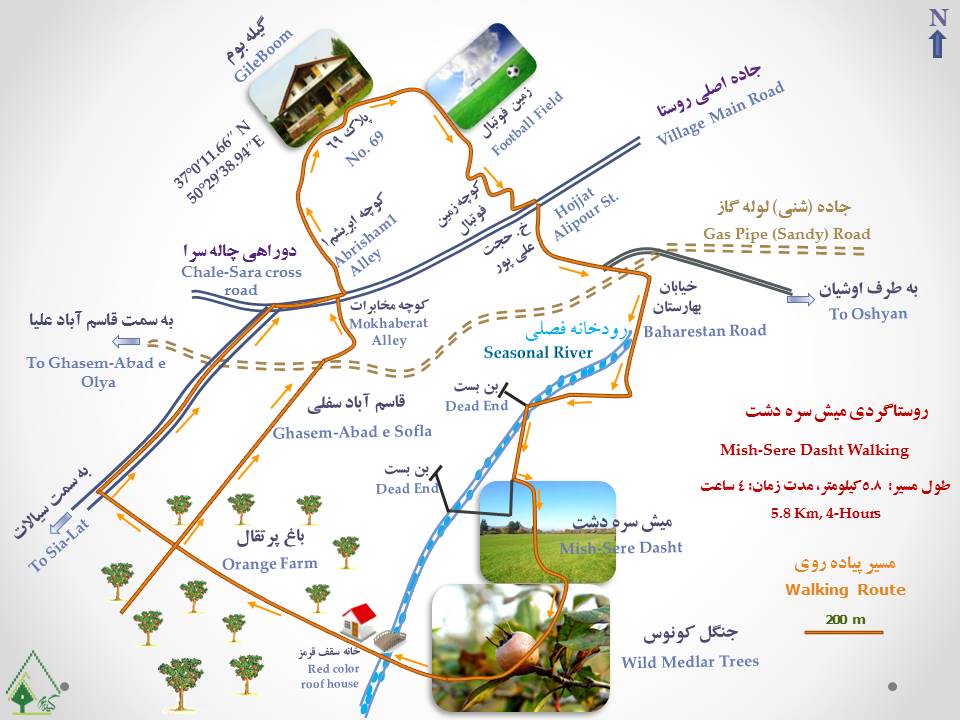 Before the Trip Please Prepare:
0.5L Water Bottle
Long Sleeve Shirt
Gloves
Binocular Camera