Eco Kolbe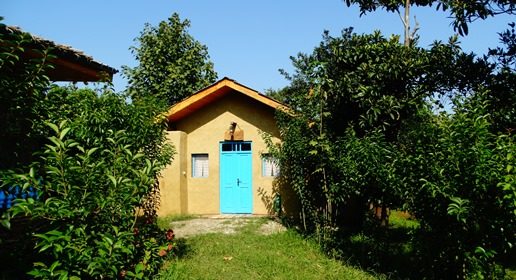 Eco Kolbe is a cottage made of mud and wood in the yard of Gileboom, which has been built in the architectural style of 50 years ago.
One European style toilet with bathroom (all private) is provided in eco Kolbe.
The cottage is equipped with a traditional fireplace and an electric heater (for very cold winter days) and a fan for summers.
Eco-Kolbe has capacity for 4 guests, including 3 traditional style beds and extra coverlet and mattress for the 4th guest.
Steps of renovating eco Kolbe is as follows:
Gileboom is an ecolodge in Gilan province which is located by the Caspian Sea (also called Khazar) and only 20 minutes away from the Hyrcanian jungle.
Ghasem Abad's songs and music
Ghasem Abad's songs and music are famous in Iran.
Ghasem Abadi dance is inspired by farming tasks performed during rice plantation, harvest, and tea harvesting. This dance is often performed in weddings and festivals.
This ceremony is held in local people's house of Ghasem Abad village, Gileboom should obtain permission to take part in the ceremony.